Host ~ Martin Willis
Martin is currently the owner of Seaboard Appraisal Service, serving Maine, NH and MA, and the lead generalist appraiser for a 40-year established firm, the Appraiser's Registry of New England. He is also a consignment representative for auction galleries.
Martin is available for lectures on auctions & collecting antiques, contact him for further information here.
Having a sincere passion for auctions, antiques, history, fine & decorative arts ~ Martin Willis founded the Antique & Auction Forum in August 2009. His ongoing efforts are to do his part in keeping the antique business alive and share knowledge to all.
As a second-generation auctioneer, Martin graduated from Missouri Auction school in 1977 and has over 40 years experience working at auctions in Maine, New Hampshire, Massachusetts, Colorado and California. He has been involved in cataloging and auctioning tens of thousands of antiques, collectibles and works of art.
In 1989 he held the Josiah Bartlett Auction, signer of The Declaration of Independence with attendees from around the world  (see video here). In the 1990s, Martin handled an extensive number of works by American artist, Walt Kuhn from his daughter Brenda Kuhn's estate. In 2001, he sold the second to last letter Abraham Lincoln wrote, which was written on his knee in the White House corridor just a few hours before he left for Ford's Theater. He was more recently the senior appraiser for over six years at Clars Auction Gallery of Oakland, California. He was the exclusive appraiser for TV mogul Merv Griffin's Estate including all of his California properties, and appraiser for the talk show host Tom Snyder's estate.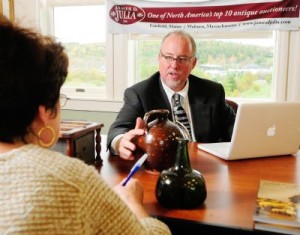 He formerly served as a board member of American Decorative Arts Forum, of Northern California. Charter member of the Board of Director's National Antiques Council, past board member of the National Auctioneers Association, past Vice President and Board Member of the New Hampshire Auctioneers Association.
Benefit auctioneer for the following: The Pixar Animation, Totoro Forest Project; Stanford University's Annual SPILF Auction (several years); Berkeley Opera; NHSPCA (over 20 years); American Red Cross, and dozens of Non-Profit Organizations.
He is a past columnist for What's It Worth in the Sunday San Francisco Chronicle, Contributor to Warman's Antiques & Collectibles 2014, Lamp & Glass Section, Antique Trader and WorthPoint as well as a blog writer on this website.
Martin remains very active in the auction business, he is a collector of fine art and a painter as well.
Occasional Co-Hosts as Follows
Co-Host ~ Reyne Haines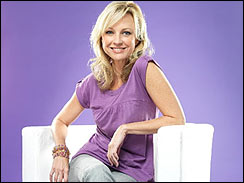 Media personality Reyne Haines, with an expertise in 20th Century Decorative Arts, is called upon to appraise collectibles ranging from antique watches to $20 million paintings.  Her appraising skills are also in high demand by investment firms, high-end estates and charity auctions.
As the host of The Art of Collecting on KPRC, Houston's NBC, Reyne hosts a weekly program spotlighting trends and news items in the world of antiques & collectibles.  As a regular contributor to The Huffington Post, Reyne blogs on the most current topics and industry events.  She is a repeat guest on CBS' The Early Show and can be heard on Martha Stewart Living Radio on Sirius Satellite Radio Network.  Reyne rose to popularity as talent on PBS' Emmy-Award-nominated Antiques Roadshow, which draws a broad spectrum of 11 million devoted viewers every season spanning young adults to retirees.
Reyne's professional background includes working as a model, news announcer and journalist.  She founded Reyne Gallery in Cincinnati, which specializes in 20th Century Decorative Arts with an emphasis on Tiffany Studios; and co-founded The Finer Things in New York City, a company that acquired and sold luxury goods for clients at auction and privately.  Reyne is continuously expanding her expertise into new areas; developing original television programming, authoring trade books and using broadcast media and the internet to connect with an avid, national fan base of collectors.
Reyne has written for—or been interviewed by—publications including The Wall Street Journal, The Washington Post, The Chicago Tribune, The Los Angeles Times, BusinessWeek, Home & Garden, Hemisphere Magazine, Worth Magazine, TV Guide, Family Circle Magazine, Time Out New York, Traditional Home, Romantic Home, Inspire Magazine andThe Collectors Weekly.  She has also contributed to books including "Antiques Roadshow Collectibles" by Carol Prisant and "Adventures at the Auction" by Leslie Hindman.  In 2003, she wrote "The Art of Glass" for the Dayton Art Institute.  Recently, she penned the introduction to the new "Warman's Companion on Watches" and a chapter on investing in Tiffany for the 2009 edition of "Warman's Antiques and Collectibles."  She recently completed a richly-illustrated book on watch collecting for Krause, the leading collectibles publisher.
Co-Host ~ Thelema Dietler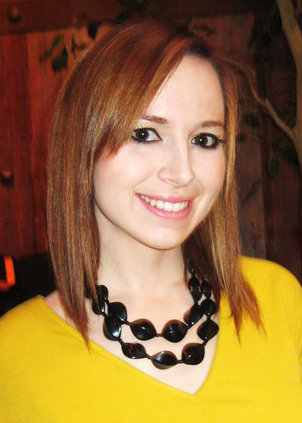 Thelema Dietler is a Gallery Assistant at the Academy of Art University who oversees three galleries that exhibits student, faculty, and alumni art.  Her participation with the monthly exhibitions; two annual auctions; numerous satellite exhibitions; and the Spring Show, exposes her to emerging artists.
Ms. Dietler attended California State University of Sacramento and earned her degree in Art History with a concentration of Western Modern to Contemporary Art.  While at CSU Sacramento, she won a writing scholarship and interned in the Curatorial Department at the Crocker Art Museum.
After completion of her Bachelor of Artist degree, she received a fellowship and served as an Ambassador by representing the Northern California District 5180 for the Rotary International Foundation.  For a month, she traveled to Brazil where she exchanged vocational knowledge with local art professionals.  Similarly, to the culture enrichment in Brazil, her travels extend to Greece, France, and England.
Recently, she became an active member with the WGirls that serve underprivileged women and girls in addition to volunteering with other various organizations.  In hopes to enhance the community and artists as well, Thelema is in the beginning stages of opening a non-profit organization named Artists' Sake.
Co-Host  ~ Phyllis Kao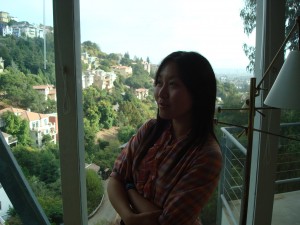 Phyllis Kao gave us some great interviews as a co-host in several shows from Episode 1-57. She currently works in Chicago with Leslie Hindman Auctioneers which leaves her unavailable to record with us. Phyllis was great and will be missed,  a big thank you to Phyllis!
Phyllis Kao was born and raised in the Bay Area, California.  Prior to her antique-related ambitions, she pursued musical interests, namely classical violin, while dabbling in other artistic and academic areas.  After studying art history and various foreign languages at La Sorbonne, Paris University, National Taiwan University, and Columbia University, she received degrees in History and French from Columbia University.  Presently she is immersed in the antique auction world, specializing in silver flatware and hollowware.  Ms. Kao has returned to her native Bay Area, and currently resides in Berkeley.  She still plays the violin, & has taken up the drums.