by Eve Sparrow
A decidedly interesting part of antiques and collectables is art. In years past there have been stories of paintings or other ephemera relating to artists that have sold for record sums. Some people may argue that it's silly money, but others take a real interest in it. One aspect of artwork that very often gets neglected, but is just as valid and worthy as expensive paintings, is that of vintage cartoons and an upcoming auction on 18th October is going to be showcasing and hopefully selling, some of the most interesting ones from recent years.
Political satire and historical cartoons through the ages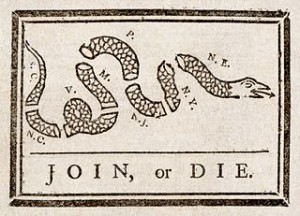 Ben Franklin's "Join or Die" from 1754. Image courtesy of wikimediacommons
The US is very lucky in that it is one of the few countries, alongside the UK, that can more or less trace it's political history through the emergence of cartoons and satire. The very first political cartoon of its kind was one that was created by Ben Franklin in 1754. It was entitled simply "Join or Die" and showed a caricatured image of a snake which became a symbol of the revolutionaries. Since then, images such as these have been used to lampoon and send up authority figures.
During the nineteenth century, critiques would be made on the presidential elections via the medium of art and cartooning. Thomas Nast was considered to be the real founding father of political satire via cartoons. His work certainly pulled no punches and he made his feelings about anyone in the political sphere he did not like, patently clear.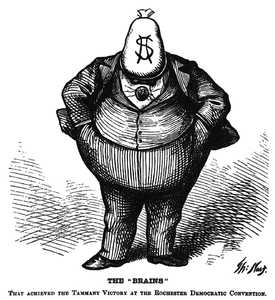 Thomas Nast cartoon. "The Brains". Image courtesy of wikimediacommons
As the years went by, the satire got harsher and the cartoons became much more vitriolic, with artists like Clifford H. Baldowski (Baldy) making waves with their stance on matters of great importance, like the Civil Rights Movement and the Vietnam War, during the mid to late twentieth century.
Baldowski's work hit a particularly rich seam during the 1970s and 1980s with images of Watergate Scandal and Richard Nixon being particularly memorable. His work differed from many satirists in that he didn't make gross, ugly or oversized caricatures, but might home in on a particular feature of a political figure and exaggerate it slightly for effect. In many ways this was more effective than going for the jugular. His images still remain popular to this day.
Alongside this political satire was a much gentler form of cartoon art that was suitable for everyone. It showed a fun side to life and one that enthralled children and adults alike. Cartoon strips such as Felix the Cat, or even very early animations featuring the likes of Mickey Mouse or Betty Boop manage to bridge the generations and make caricature something that was very accessible for everyone.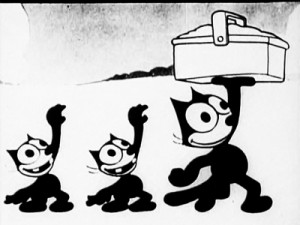 Felix the Cat. Image courtesy of wikimediacommons
Upcoming auction
It is this marrying of the political and the fun, easily accessible art that make the upcoming auction of the Howard Estate all the more interesting.
Charles L Howard was an obsessive collector of cartoons and his entire collection is due for auction at the Hess Fine Auction Rooms in St Petersburg, Florida on the 18th October. Howard's collection is a really interesting jaunt through the annals of not only political and historical satire, but also a welcome hark back some wonderful images of original cartoon characters such as Mickey Mouse, Dick Tracy and Pop Eye and Olive Oyl.
Howard's story is very interesting. In a report from the New York Times, it was said that he spent many years writing to the cartoonists from some of the many newspapers in the US at the time, asking them to send him original drawings of their work. He then took these and framed and displayed them in various places within his offices and home, amongst all the vintage furniture and other collectables he had. In 1939 he allowed some of the images to go on display at the Art Institute of Chicago and this is the first time since then the artwork has been not only viewable, but available for purchase too.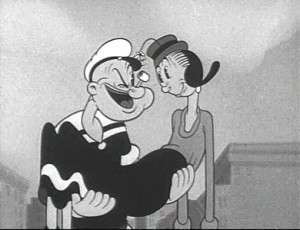 Popeye and Olive Oyl. Image courtesy of wikimediacommons
He died in 1957 and it appears that the artwork he had amassed over the years is pretty much all very collectable. Much of the artwork is remarkable and indeed harks back to the time of Thomas Nast, with some of his images that date from around 1880, up for sale during the auction alongside comic strips of Felix the Cat. Enthusiasts have already shown a great interest in the items that are for sale and there is a real buzz around the auction. Hopefully it will renew an interest in a very thought provoking social and political topic.