By Martin Willis
There has always been controversy on when someone should refinish on old piece of furniture and when they should leave it be.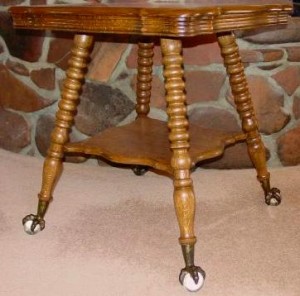 I did antique restoration and the refinishing of mostly oak back in the "golden oak" days. My opinion always was, if it is not a period piece, and it is machine made, then it does not matter if it is refinished or not. That was many years ago and I have not touched sandpaper to wood for a long time. In hindsight my thoughts about refinishing were rather narrow-minded.  Just because something is machine made does not mean it cannot be or cannot become important. A hundred years from now, someone may be cursing me for all the refinishing I have done, so I will apologize now in advance.
Luckily, no one ever asked me to refinish a nice arts & crafts piece, however it does seem like the majority of these pieces are not in original finish.
I had a restoration shop when I was in my early 20s for about ten years. I bought a plain oak lamp table at my father's auction for $10 for display purposes. It had a horrible water stained top and the finish was flaking off. I sawed it in half, refinished one side of it and braced it back together. I put this piece in my showroom so I could display the before an after of my work which was night and day. Not long after the table appeared a crusty old New Englander came in my showroom and started yelling at me for sawing the beautiful table in half. I simply pointed at the original condition side and asked him what he would pay for the table if it looked like that.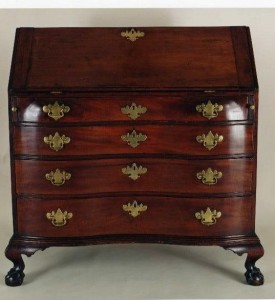 Original surface is a big deal on period furniture and I would strongly suggest to my clients that they not refinish period pieces. My best friend's wife asked me to refinish a period Boston Chippendale desk they inherited in original finish. She was complaining that the finish was dry and crusty (just like the purists like it). I refused to touch it and told her there were other options, unfortunately she went to the phone book and someone else did the deed to my dismay. It was a horrible polyurethane job, shiny as can be and rough to the touch. There were orbital sander marks covering the whole piece.
If you just cannot live with a finish the way it is on a period piece, then you can have it French polished. French polishing is done with a finish amalgamator that is basically blending the finish into itself and then finally rubbed down with pumice. It creates a beautiful luster finish out of the original that is soft to the touch.  It takes a lot of time and patience to do the job correctly. A person who is skilled at this procedure can be in high demand. For instance, I was in a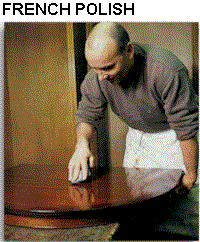 home of a collector with beautiful period pieces, all of which were wonderfully French polished. I had a piece in mind that I wanted to have done and I asked her who did her polishing. She thought for a minute and said that she was sorry, she could not tell me. When I asked her why, she said that she did not want him to have too much work otherwise, she would have to wait too long to get her work done. As you can guess, she is a hardcore collector. While I am on this subject, I have an upcoming podcast with a very skilled restorer so named Tony Cardona. We will touch on that subject among other facets of restoration.
I still say there is a time when to refinish something and here are my humble opinions. 1. If a piece is painted that was originally finished. 2. If the finish is flaking off down to bare wood. 3. If there is water damage and the finish is totally destroyed.
Contemporary durable finishes seem tempting, but you should only use the type of finish that was originally used on the piece when it was made. That can easily be researched online these days. You can use orange shellac for 18th century pieces, just remember, it does not hold up to water.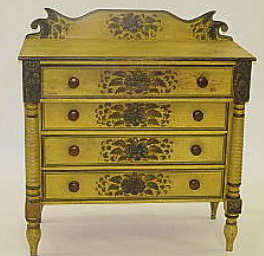 Now let's touch on painted surfaces of period pieces. Nothing is more desirable to a collector then an untouched original painted surface. I saw a situation at auction with a pair of fine chest on chests, one in original mustard color paint and the other stripped and refinished. The mustard color one sold in the six figures because of the remarkable surface. The twin that had been refinished sold for under $20,000. I ask of anyone reading this, if it is period pieces in original painted surface do not touch it with anything. If you think it is dark, or you would rather see it refinished and shiny, do the collecting world a favor and sell it to someone that appreciates it just the way it is.
If you are going to have a piece worked on, I would suggest taking it to someone that has a great reputation among antique dealers. You do not want a period Boston desk refinished in polyurethane.
As a former refinisher, I can tell you that there is nothing like a nice original finish on a great piece.  Now I am finished talking about finishes, thank you for reading!