By Martin Willis
I enjoy the work of Louis Comfort Tiffany and after Reyne Haines and I did Podcast #72. about his  glass, I decided to write a little about him. There is so much to write when it comes to Tiffany, I am only able only touch on a few facets with this blog in the area of windows and art glass.
When you look back in time, you can see that there have been only a hand full of  individuals who have truly shaped our world. Louis Comfort Tiffany did just that with American design & decorative arts the last part of the 19th through the early 20th century. His influence still affects pieces made to this very day.
Louis was born with a very nice silver spoon on February 18, 1848 to Charles Lewis and Harriet Olivia Young Tiffany. Charles started out with John B. Young in stationary goods and gifts in New York City. He eventually became the founder of Tiffany & Co. (Tiffany & Young Co.). He imported goods and fine treasures from all over the world. He eventually employed some of the finest silver makers & jewelers in the country. Growing up in an environment like this heavily influenced Louis and soon he decided that he wanted to become an artist.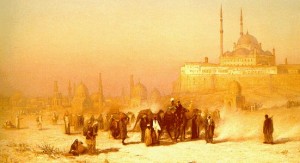 In my opinion the works that I have seen by Louis have been very strong. He painted oils and watercolors and often in the orientalist manner. He studied art under George Inness and Samuel Coleman in New York and under Leon Bailly in Paris.
While he was an extremely talented artist, he knew in his heart that he could only seek a certain level as a painter and this was not good enough for him.
Around 1875 he turned to working in another medium, glass. He actually spent time working in several glass houses in Brooklyn between 1875-1878.
Tiffany's father's money and influence gave him a perfect launching pad for his creativity. In 1879, he joined with Candace Wheeler, Samuel Colman and Lockwood de Forest to form Louis Comfort Tiffany and Associated American Artists. With over 100 artists and associates, he began decorating homes of the influential including the Mark Twain House in Hartford, CT and later to the Whitehouse under Chester A. Arthur. This company lasted until 1885 and the breakup was mostly because Tiffany wanted to get back to glassmaking. Tiffany Glass Company was formed later that year in December, (the name changed to Tiffany Studios in 1902).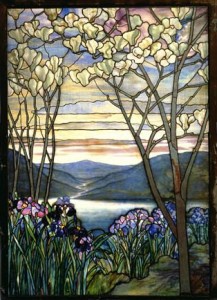 He began designing and making windows, yet both he and John La Farge were frustrated working with the stained glass that they could purchase, and ultimately began creating their own glass.  If you have ever looked at one of Tiffany's windows  with the sunlight coming through or a lamp well lit, you know the sheer beauty of the glass he created. There have been many copycats, but no one has ever come close to recreating the richness of color that his glass possessed. Tiffany eventually had the largest stained glass studio in the country. He employed hundreds of people and made thousands of windows. I hope the reader is able to enjoy the beauty of his work. There are great examples even in California, such as St Peter's Chapel, Mare Island.
As electricity started to flow throughout the homes of our country, Tiffany took full advantage with the mosaic shades he created. I knew the granddaughter of one of Tiffany's lamp makers and she had a wonderful collection. It sadly owned her, as she did not dare to leave her house. More about lamps and other creations at another time.
Louis was heavily influenced by the iridescence of Roman glass (caused by decay) that he had seen at the Victoria and Albert Museum in 1865. This extensive collection of Roman and Syrian glass made a deep impression on him. He began working with chemicals to produce a similar effect. Favrile Glass is a type of iridescent art glass designed by Tiffany.  It was patented in 1894 and first produced in 1896. It differs from most iridescent glass because the color is ingrained in the glass itself, as well as having distinctive coloring.
Tiffany's art glass remained in demand until he died in 1933, it fell out of favor for many years and started a comeback in the 1960s. It is still going strong today.
I always like to talk about fakes on my podcasts, so I will touch on that a little here. A genuine Tiffany piece should shout out quality when you first look at it. If you look at a piece that is supposed to be Tiffany, yet in your gut, something is missing or it looks too "something", then you are most likely right. As Reyne Haines says, the signature is the last thing you should look at. However, this may take a trained eye. If you are a novice collector, I would suggest to turn to a reputable dealer or auction house that will stand by their descriptions.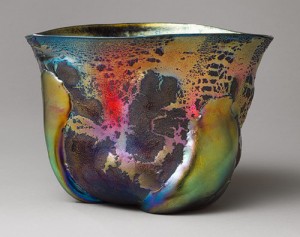 Another topic Reyne and I talk about in the accompanying podcast is, that it is important to buy what you like. Don't buy something that you think is rare, but do not like. You are the one who has to live with it. Also, you are much better off using the same amount of money that it would take to buy ten mediocre pieces and buy one very nice piece instead. It never hurts to collect variations as well.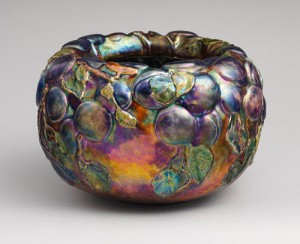 As I said in the beginning, there is much to write and talk about on Louis Comfort Tiffany. It is hard to even scratch the surface of one or two areas of his work in a blog. I hope some of you enjoy viewing the fine works of the Louis Comfort Tiffany as much as I do.
Happy hunting everyone!