by Martin Willis
I will be the first to admit that I am not well versed in this era of furniture but have been trying to educate myself a little on it. Some pieces I do not find appealing, but others are very pleasing to the eye. I tend to like the furniture that is simple in design. I also go to the other extreme and love to see out of control, crazy looking pieces.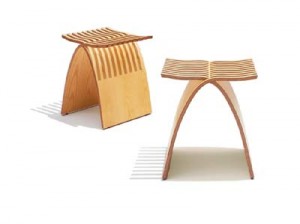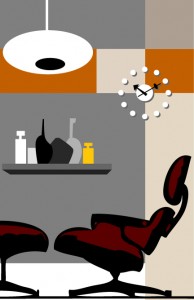 If I remember correctly only about 20 years ago, we auctioneers and dealers used to call the era "that 50s stuff" with disdain, of course. The term "retro" was used sometimes and can be used for eternity for all things of our more recent past. I always think too much about things like this and wonder what will be the next term of a recent era. What will they call "Contemporary Design" forty years from now? In 2050 will we be calling the pieces produced at that time "Mid-century" all over again? I sure hope we are not currently living in what will be later termed: The IKEA Movement! This makes me wonder who is in charge for naming our eras of design anyway? I think it should be an elected global official with a wordsmith background. The candidate will have good taste and a keen eye before they get my vote.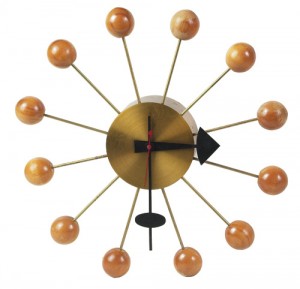 Turning back the clock 25 years ago, I got a house call in New Hampshire from someone that said their grandfather passed away and they had a house full to sell. The house was built in 1952 and fully furnished at that time. Everything in it was as wild & unusual looking to me, from lamps to furniture. It was packed full and all I can remember today is that I said that I was sorry, but could not help them. That was the way it was then, no one wanted any of it. If you did take it for auction, no one bid and you ended up disposing of functional pieces that are valuable today.
A lot has changed since that time and things will change again. When I say this, I do so because I have seen repeatedly how trends change and collecting in a certain area falls out of fashion. Collections drop and rise in value like a roller coaster. When asked I tell people to collect what they like, not purely for investment. If what they collect is not a passion of theirs, they may end up living with it longer then they planned to. You can almost always be safe if you acquire the top of the line of whatever category you collect in.
The Mid-century Modern Design was at it's height in the years following WWII. Post War optimism stirred designers to think outside the box. There is often and exaggerated futuristic look to many pieces. I enjoy this aspect of the art deco era as well.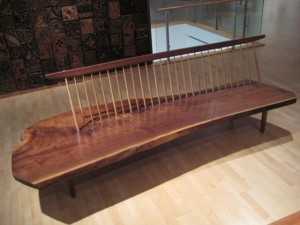 There were a number of people involved in creating the designs of Mid-century Modern furniture.
Here are a few names: George Nelson, Charles & Ray Eames, Herman Miller, Isamu Noguchi, Harry Bertoia, Mies van der Rohe, George Nakashima, Edward Wormley, Gio Ponti. Paul McCobb, Milo Baughman and many more.
Danish Moderns designers include such famous names as Arne Jacobsen, Hans Wegner, Finn Juhl, Borge Mogensen and Poul Kjaerholm.
You can often find original pieces for a lot less then the reproductions cost. Good ways to scout out pieces is to watch for yard sales at housing developments that were built in the 50s-60s. Look on Craiglist, go to auctions, shops, shows and flea markets. You may find the the search alone will bring you great pleasure. Many seasoned collectors and dealers freely share their knowledge. If you are on a budget, I would suggest looking for pieces that need a little work, whether it is finish work or upholstery. Furniture made during the Mid-century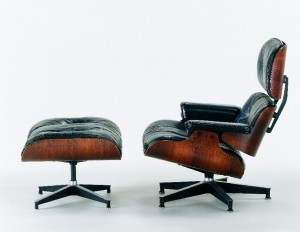 will last several lifetimes.
Back awhile on podcast #36 we spoke with a well known Mid-century collector/dealer, Dave Shaw of the Berkeley Hills in California. Besides having a great sense of humor, Dave was way ahead of most dealers in the 1970s and saw that Mid-century furniture was going to have it's day. One example is, he began collecting Eames lounge chairs for $15 each, because no one else wanted them at the time. He claims he buys things because he loves them and his keen eye has served him well. Click here to listen to his podcast.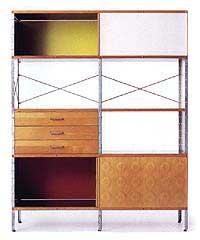 We are in a day where design and form is more important then age. Design and form have always mattered but it used to be coupled with age and rarity to make it special.
On parting, if you were asking me for advice on what level to collect, I would say buy the best with what you can afford. In all areas of collecting, it is better to buy one great piece, then ten mediocre pieces. If you are a collector, I hope you have success in finding what you are looking for and most of all, I hope you enjoy the hunt.
Click here to listen to LA Modern, Peter Loughrey