by Martin Willis
The More You Pay the More You Like It
Values of rarities are only perceived ones and are subjective to the beholder. Only two people have to have this perception, the winning bidder and the under-bidder. Proven history shows that auction is a great method to sell rare items, people fight with their money to claim their prize.
This was no exception at Bonham's groundbreaking History of Science Auction held in New York on October 22nd. Offered were 288 lots including items ranging from 18th century pocket globes to the ilk of 20th century tech.
The star of the show was a motherboard retaining a label reading, "Apple Computer 1 / Palo Alto, Ca. Copyright 1976". Let's face it, not a pretty object, but historically very significant in the digital world. The bottom line is, when the bidding ended and the dust settled, Apple 1 sold for an astonishing $905,000.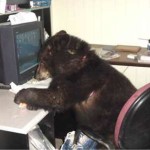 Click Here to read more and to find our why this bear has anything to do with old computers.
Continue reading