by Eve Sparrow
Pocket watches are something that have had a long and very varied history. As the saying goes "Tempus Fugit", time flees. These items can be simply designed and functional, meant for every day use, or they can be intricate and ornate objects which are meant to be shown as a display of wealth, as well as serving a useful purpose. Timepieces are now amongst the most collectable items of jewelry for sale at auction these days and over the coming months there are two important and notable events doing just that.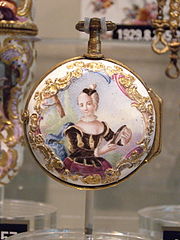 A brief history of timepieces
Intricately designed pocket watch from the 18th century. Image courtesy of wikimediacommons
Thousands of years ago, man had literally no concept of time. Life was governed by the transition of the seasons and day moving into night. The notion of AM or PM just did not figure at all. Over the centuries, the need to be more concise and recognize how the day evolved became more necessary. The first recorded instance of pocket watches came during the later stages of the middle ages when people from the upper classes of society requested craftsmen to make them timepieces that they could hand around their necks, primarily as a show of wealth but also as a stylish means of being able to tell the time accurately wherever they were.
It was alleged that Queen Elizabeth I of England was one of the first people to own a wrist watch and other notable names in history who are said to have owned pocket watches are the Duke of Modena and the Ottoman watchmaker Meshur Sheyh Dede.
Until the Industrial Revolution they really were the reserve of the upper echelons of society only. The ordinary person would simply have to carry on relying on whether the sun was over the yardarm or not! Once the Industrial Revolution took hold, the trend for these pieces spread worldwide as trade broadened and important developments like the railways cropped up everywhere. In the United States and The United Kingdom it was made compulsory for men who worked on the railways to have about their person at all times an accurate method of telling the time, thus they were supplied with pocket watches to be able to do this. They only fell out of favour when technology moved on with the development of the Quartz movement which rendered the daily winding of watches obsolete.
Continue reading