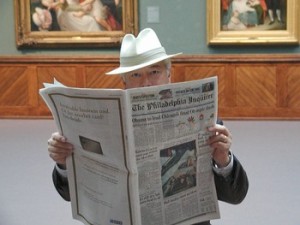 Martin: I have Bob on the line now how you doing?
Bob: I am doing well; it's great to be here Martin thank you.
Martin: I was pretty excited when Eric Bradley of Antique Trader gave me her name and I thought it would make the perfect podcast. There is a lot of intrigue when it comes to art theft, and you are on the Colbert Report what was that like?
Bob: He is a great guy, very smart man, he works hard at that show, and it's a great show.
Martin: Yes and he took it easy on you.
Bob: I think he was actually interested in the subject, is after the taping they told me usually gets up and leaves, but he stayed and asked me some questions. I think he was actually interested in the subject itself. When you first go on you go in the green room, any comes in to visit with you. He said listen I just want you to know that this is all in fun, and please don't take offense at anything. Then the producers tell you don't try to tell any jokes, let him do the jokes, no one upping. You don't want to try to match brains Steve Colbert.
Martin: right off the bat I want to say, most people's opinions is that art thieves early like Pierce Brosman, Cary Grant in their sort of in a romantic intrigue when it comes to art thief's. What are art thieves really like?
Continue reading