by Median1
There has always been a illicit market for looted and stolen antiques and history.
New York-based Conference of Jewish Material Claims Against Germany and the United States Holocaust Memorial Museum in Washington, D.C. recently released a joint press statement estimating that some 650,000 or more objects of art were believed looted by both the Nazi's, the U.S. and allies from various museums and private collections throughout Europe. "Most people think or thought that most of these items were repatriated or restituted," said Wesley A. Fisher, director of research at the Claims Conference. "It isn't true. Over half of them were never repatriated.
That in itself is rather interesting historically speaking, however it only speaks to what obviously is merely a very small fraction of the items looted worldwide, a purported 6 billion dollar industry in just the last year.
Museums, dealers, collectors and auctioneers alike have long been aware of the underground black marketing of stolen and looted items. Traditionally wealthy collectors who were willing to pay a premium for unusual & rare pieces were blamed for the black market in stolen goods. Private treasures of the respected elite, to be hoarded, locked away and carefully guarded…for their eyes alone.Yet, in truth the modern looter, unscrupulous dealer and collector can no longer easily be categorized so simply. Shadowy dealing in dark alley ways is a thing of the past…In fact, archaeological theft apparently has gone corporate.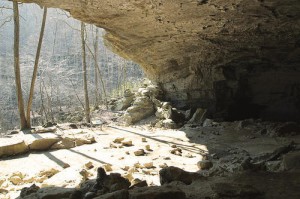 Here in America alone looters have long pilfered Native American sites in search of pottery, bones, jewelry, arrowheads and even carved pictographs. Newsweek recently stated that many archeologists when polled estimate currently that as high as 80 percent of former tribal lands have now been plundered in just the last decade. (Newsweek, Tony Dokupil July 19, 2010). In an era where an ancient sacred funeral pit can be simply dug up, pilfered and items sold for as high as fifty to sixty thousand dollars on the black market the temptation to loot a site, without regard is becoming unfortunately, common place.
Rarely do these Native thefts make news, for several reasons. Embarrassment is certainly one, tribal restitution another and certainly the exposure of the site. One of the recent few stories regarding this being in June were some two dozen people were indicted after a sweeping undercover investigation into ancient artifacts stolen from public and tribal lands in the Four Corners area."According to the associated Press., there were around 300 federal agents that were involved in the arrest of both men and women ranging from ages twenty-seven to seventy-eight. They were all part of an underground network. (Associated Press, Mike Stark, June 11, 2009)
The problem has seen looters even paying rent on private property in order to dig without being caught. Unfortunately there is no law to prevent digging on private property.
The Las Vegas Sun Newspaper reported recently concerning a couple of men who were questioned and detained concerning the loading of artifacts into a car. An observant ranger witnessed what they were doing leading to the recovery of more than 11,000 relics.
Another recent recovery was in February when a man was briefly held and an ancient pre-columbian figure seized at the Oakland Airport. The item recently returned to the Mexican government, which made news.The passenger claimed he found the artifact in Ameca, a rural city in the state of Jalisco in western Mexico, but there were some "inconsistencies" in his story, U.S. Customs and Border Protection spokeswoman JoAnn Winks said.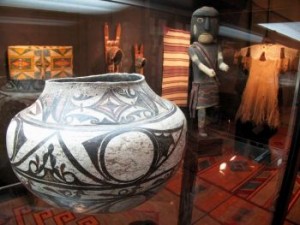 She further went on to say that the man was not detained but agreed simply to sign a form relinquishing property rights to the item. Sure. And there it is…Inherently, that is the problem…large profit and a mere slap on the wrist…if your caught.
As mentioned previously, globaly, it has been estimated as high as 6 billion dollars annually trades hands in the illicit trafficking and dealing of illegal artifacts. That figure does not even factor into consideration the above mentioned stolen art, found relics , or those that were stolen and now on the market from previous years . That is an absolutely staggering figure!
In its 2005 publication, the National Crime Record Bureau (NCRB) went so far as to officially state that of the mere 1,012 reported theft cases; only 326 stolen antiques were recovered. Strangely enough, again, apparently when thefts do occur of antiquities they rarely are reported.
For example: the Archaeological Survey of India (ASI) which is responsible for archaeological studies and the preservation of archaeological heritage of the country in accordance with the various acts of the Indian Parliament. According to its website, the ASI's function is to "explore, excavate, conserve, preserve and protect the monuments and sites of National & International Importance." The ASI provided data for only 13 thefts from inside Centrally-protected monuments during 2004-2006. The difference in data between the NCRB and the ASI certainly strongly suggests that not only is no protocol being regularly followed for registering of art thefts but further that no interagency cooperation exists.
Of the many artifacts & items stolen yearly, most will eventually find their way onto the conventional antiques market…including auction houses and online internet sites.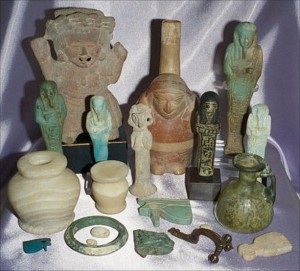 Recently the former director of a Long Island museum was convicted of stealing Egyptian artifacts from the institution's collection of which were later sold through Christie's. Among those items furnished to Christie's was a bronze
statuette depicting Apis believed to have dated 712 to 332 B.C. http://www.nypost.com/p/news/local/li_m … z13BuwWl00
With an ever expanding web presence, one has nothing more to do these days then go to ebay where some 300,000+ purported antiques, documents & antiquities flow freely weekly. Certainly of those listed online that are authentic, some experts claim 30% or higher are easily estimated at being illegally obtained. Ebay's reaction to the problem was this release "The sale of stolen property is strictly forbidden on eBay" followed by this description…"Stolen property includes items taken from private individuals, as well as property taken without authorisation [sic] from companies or governments.
Obviously, ebay cared so greatly as to not even bother to proof their own formal press release. If that were not so appallingly pathetic a statement of fact, it would be simply humerousus [sic].
For those dealers/collectors that are not already aware of stolen art and related online data bases, here are a few sites that may hopefully help prevent the accidental marketing or purchasing of such items (including Nazi plundered art and antiques).
If any other members have links to add, please do feel free.
http://www.interpol.int/Public/WorkOfArt/Default.asp
http://www.museum-security.org/
Holocaust survivors and their relatives, as well as art collectors and museums, can now go online to search a free historical database of more than 20,000 art objects stolen in Germany-occupied France and Belgium from 1940 to 1944, including paintings by Claude Monet and Marc Chagall.
Database of Art Objects at the Jeu de Paume: http://www.errproject. org/jeudepaume http://www.worldjewishcongress.org/en/news/9624