by Martin Willis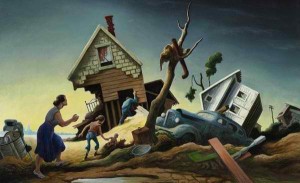 Auction disasters and major challenges are rather rare, but when they happen they certainly leave an impression and they can be very interesting (as an afterthought). I have been a little apprehensive about posting this blog and in no way am I trying to scare people away from the auction method.  I believe in auctions as the best possible means of selling almost anything on the secondary market. Some of these stories have a good outcome, but not all of them. Keep in mind, this is a small sampling and I am sure if every auctioneer was polled, there would be some great additional stories.
I figured I would start out with the biggest disaster I ever heard of, but I have to be sketchy on the details to protect my source. Let's just say that a friend of mine possibly worked at a major auction house in New York City.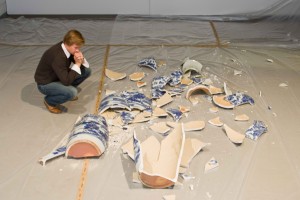 Her story goes that there was a major piece of Russian Czar porcelain, a monumental piece in size and it was on the cover of the upcoming auction catalog. Just a few days before the auction preview, it was to be moved in place. The handler had it on a cart and was pushing it from where it was stored in the warehouse to the auction house floor, his cell phone rang and he answered it, meanwhile this piece worth several million dollars tumbled to the floor and smashed into 1000 pieces. There were already many multiple bids in the millions for this piece and dozens of phone bids set in place. The only other information I could get from my friend was, that the piece was paid out in the upper range of estimate to the consignor. She does not recall the person that was pushing the cart was working there afterward or not. Okay, so my first story doesn't have much of a good outcome, but you have to admit you just cringed a little didn't you? I always do when rare pieces are gone forever.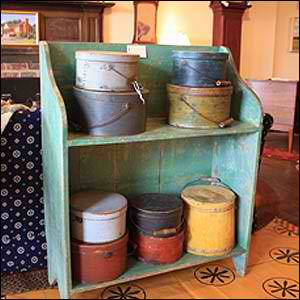 → I sat in an auction once where the auction consisted of a very nice single owner collection of early American painted furniture and accessories. There was a gentleman in the front row who bought every single item, from Lot 1 to about lot 50. He just sat there holding his bidder's card up until people stopped bidding. There was a whole lot of grumbling in the back of the room, and all the dealers started leaving. The crowd pretty much thinned out and most of the audience was gone by the first 50 lots. I had never seen anything like this before, and there were even a couple of items that one of the dealers bid much higher than what it was worth just to see if the guy would stop bidding, and he did not. I was one of the people that did not leave, and there were only a few dozen of us left. When the sale started out, there were well over 150 people. The gentleman who is bidding on the first 50 lots and bought them all decided to stop bidding, and I have no idea why. This set up a very strange dynamic and basically destroyed the rest of the auction. I first attended the sale to observe and didn't plan on purchasing anything, but at the prices they were selling for, I ended up buying about 20 items for myself. This is a rare situation, and the only time I've ever seen a single person kill an auction.
My father had an auction back in the mid-1970s in Portsmouth, NH. In this particular auction there was some very important Maria pottery, Navajo rugs and other wonderful things from the Southwest that all came out of the Lanier estate. This was part of the Lanier School that was in the Southwest in the 1920s-30s when these things were collected. My father had put a very small ad in the Antiques and the Arts Weekly, plus he sent out fliers to the mailing list. The day before the auction, my father was perplexed and wondered why no one was calling as he relied heavily on his mailing list. He somehow found out that they never left the post office. Also, the forecast looked really bad, a nor'easter was coming in and we expected some closed roads from the heavy snow. My father, in a panic put an ad on a radio station that ran several times that day. The only source of advertising was the one trade paper, and the radio. Auction day came with the storm brewing, to our astonishment the people started filing in. It seems as though the word got out that nobody was going to go to this auction, so everybody came. It was standing room only. Despite all odds against the auction, it was one of the better ones my father ever had.
My father and I were helping his friend at an auction in the Midwest, and the brand new auction gallery had a stage above theater style seating. He went to move a floor lamp glass globe, slipped and tossed the shade by accident right  into the very full audience, smashing all over the floor. It almost looked like a move on a basketball court. Luckily, no one was injured, and there was an applause. (I assume for entertainment value)
I told  this story in podcast episode 112. with Bram Hepburn. I had an auction in Rollinsford,  New Hampshire several years ago. It was a very nice auction with an 18th century lighting collection and also in 1902 Cadillac as well as many other fine pieces. The auction was held on location of this old generational farm, and it was a beautiful setting. The day of the auction there was torrential rain like I have never seen before. It was so loud coming down on the tent canopy that the people in the audience couldn't even hear me with the PA system at full volume. By the end of the day I had lost my voice. In particular, there seemed to be a river forming where there was no sign of any river before, going directly through the tent. Everybody who remained seated had to put their feet up on the chair in front of them to stay dry. Then all of a sudden the caterer, Bram yelled, a hose let loose from his grill and what appeared to be a flamethrower was shooting back and forth by the house. After a break, the auction went on, people stayed and believe it or not, it was a great success. Everyone lived.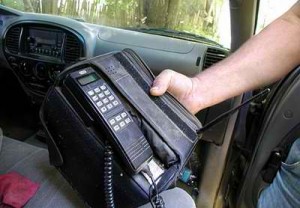 Back in 1989 I felt privileged to have a cell phone, it was one of these bag phones, that weighed a ton. I kept it plugged into the cigarette lighter in my van at all times. It was a good thing I had this, as I found out later. I had a small Alexander Calder sculpture in my auction, and I had announced that it would be selling at 11 AM sharp. 11 o'clock came and one my employees at the desk announced that the phone lines were dead. It was at that point where I realized that I could use my cell phone. I handed the microphone over to another auctioneer and drove my van upfront between the two entryway doors and stretched the cord of my cell phone through the door. I made a choice and contacted the person I knew who wanted the sculpture the most. It was pouring rain that day as well and I noticed the winning bidder was soaking wet. He paid for the sculpture, and then left. The turn of events all seemed against me, as the cashier let him take the item when I had a limit of $5000 and above which needed approval from me before it left the premises. This piece sold in the multiples of that. When the auction was over one of the attendees came up to me and told me he was changing his baby's diaper outside in his car when he noticed someone sawing something on the side of my building. When I went over to the side of my building I noticed that the phone lines had been sawn through. It all came together after he described the person cutting the lines as the winning bidder of the Calder sculpture. The thing that does not make sense is, the buyer paid with a fake check, and he presented a fake license, calling himself Dr. Hutton. I am not talking about a check with funds that are not there, I am talking about a check that was completely fake and it only took a few days for the bank to tell me this. I always wondered why he tried to save money by getting rid of the phone competitors, yet he was not really paying anyway. Luckily this gentleman (I use this term loosely) had an accent and I had saved the messages on my phone pertaining to this Calder piece. When I asked the cashier to listen to the messages he said he was certain that it was the same person. I got the FBI involved and before the week was through the Calder piece was sitting back at my office. Luckily, the under bidder had regretted that he did bid higher, and was still interested in buying it at the full price. Another story with a good outcome!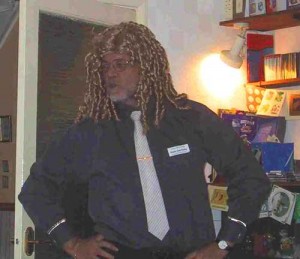 My last story I want to be a little humorous, as I'm a little pensive writing these others down. For over 20 years,  I used to do an annual benefit auction for the New Hampshire SPCA. One year it was on Halloween weekend and they decided to have a costume theme. I dressed up as a vampire and went all out, got a tuxedo with tales and mounted fangs to my teeth. By the end of the night, with all my talking as the auctioneer, the fangs cut my lower lip which appropriately bled for a vampire authentic look. At these auctions I mostly sold gift certificates, vacations etc. but this particular auction had some very nice exercise equipment, one of them being an elliptical style machine. In the audience there was a man dressed as Goldilocks. He was about 6 foot five or taller and weighed a good 300 pounds. It was hysterical just to look at him (his wife came as the Baby Bear). When it came time for me to sell the elliptical machine, I asked Goldilocks to get on the machine and demonstrate how to use it, which he did. As he sped up, somehow the entire thing blew apart, and he tumbled on the floor with his wig falling off (bald headed). He jumped up and said he was fine, threw the wig on crooked, left the debris and sat down. Myself, as well as the audience could not compose ourselves and stop laughing for about 10 min. This may be one of those stories that you may have had to be there to really appreciate it.
Again, I hope you, the reader will not lose faith in auctions, as these things are few and far in between. People and unusual or challenging situations make for good stories in almost any trade.