by Martin Willis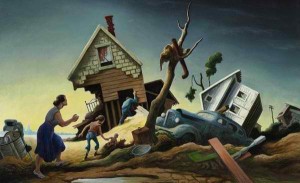 Auction disasters and major challenges are rather rare, but when they happen they certainly leave an impression and they can be very interesting (as an afterthought). I have been a little apprehensive about posting this blog and in no way am I trying to scare people away from the auction method.  I believe in auctions as the best possible means of selling almost anything on the secondary market. Some of these stories have a good outcome, but not all of them. Keep in mind, this is a small sampling and I am sure if every auctioneer was polled, there would be some great additional stories.
I figured I would start out with the biggest disaster I ever heard of, but I have to be sketchy on the details to protect my source. Let's just say that a friend of mine possibly worked at a major auction house in New York City.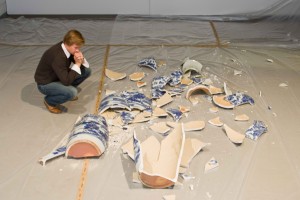 Her story goes that there was a major piece of Russian Czar porcelain, a monumental piece in size and it was on the cover of the upcoming auction catalog. Just a few days before the auction preview, it was to be moved in place. The handler had it on a cart and was pushing it from where it was stored in the warehouse to the auction house floor, his cell phone rang and he answered it, meanwhile this piece worth several million dollars tumbled to the floor and smashed into 1000 pieces. There were already many multiple bids in the millions for this piece and dozens of phone bids set in place. The only other information I could get from my friend was, that the piece was paid out in the upper range of estimate to the consignor. She does not recall the person that was pushing the cart was working there afterward or not. Okay, so my first story doesn't have much of a good outcome, but you have to admit you just cringed a little didn't you? I always do when rare pieces are gone forever.
Continue reading