By Michael Bernzweig
Growing up, my mother had a houseful of antiques—which I not-so-affectionately referred to as junk. I felt embarrassed when my friends referred to our house as a museum. Moreover, I had no idea that these items held value. My concern was that I had to help dust around all of these "trinkets" and field questions about their origin. My mom collected old medicine tins and bottles, tobacco tins, inkwells, kitchen spice tins and timepieces. She tried to explain what the colorful lithographs meant and why they were important: nostalgia, historical interest and face value. It was not until a friend asked me years later to join him relic hunting with a metal detector that my attitude toward antiques changed. Below is advice on selecting a relic metal detectors for locating antiques for readers of Antique Auction Forum from industry professional Michael Bernzweig of MetalDetector.com.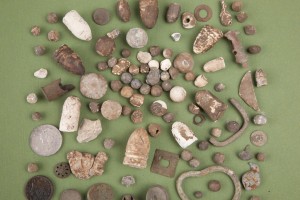 Antiques like these mini balls, buckles and bullets are common finds for customers of MetalDetector.com who hunt for relics and antiques.
My friend was poking around on the shoreline searching for antiques (or relics)—in particular, antique rings and jewelry and antique toys. In the process, he came upon an old inkwell that looked exactly like one of my mother's! His fascination with the history of the inkwell (everyone used them until there were fountain pens) and the fact that he sold it at auction gave me a newfound appreciation for my mom's "stuff." Now I regularly embark upon treasure hunts with friends with metal detectors and we're creating lots of fun memories. On a recent hunt we've even recovered some valuable coins and an antique pendant.
Interested in Relic Hunting with a Metal Detector?
Once you've established an interest in unearthing antiques, it's time to invest in a decent metal detector. It's important to choose your metal detector carefully if you're using it for a singular purpose. Metal detectors for relic hunting are designed specifically for locating objects such as coins, buckles and jewelry. It is important to note that areas which produce great relics may also contain high mineralization. If this is the case in your area, choose a detector that features a ground adjust or ground balance control. The next consideration is the frequency of the detector. Many relics are produced from iron, brass and steel. A detector with a lower frequency will better to target relics than a detector with a higher one. Smaller objects are easier to pinpoint with a smaller search coil. You may want to select several coils ranging from small to large. Many detectorists appreciate the target identification feature— meters that identify targets in the ground before you dig them up. A metal detector is a significant purchase; be sure to research metal detector options and ask for help choosing the right model.
If you do find an amazing antique on a relic hunt, how can you determine its value? Find a local appraiser who can give you insight into the origin of the item. Appraisals can determine fair market value for artifacts. Collectors may be surprised at the high value of the objects they find using a metal detector.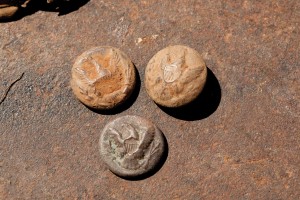 Antiques and relics often turn up while hunting in the woods with a metal detector. In this photo are some nice examples of dug eagle buttons. Metal Detecting old river crossings and campsites typically produce relics according to Michael Bernzweig of MetalDetector.com.
Biography
About the author: Michael Bernzweig manages MetalDetector.com in Southborough, MA. He has written extensively on the subject of metal detecting since the mid 1980's. He has traveled world-wide in his pursuit of educating, exploring and advising others in the proper use of metal detectors. Outside of the business he enjoys mentoring students, being involved in the community and spending time with his family.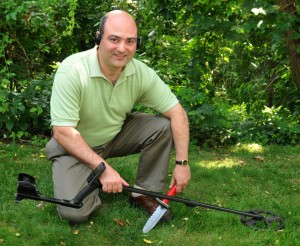 Metal Detectorist Michael Bernzweig of MetalDetector.com spends time relic hunting using the XP DEUS Metal Detector.