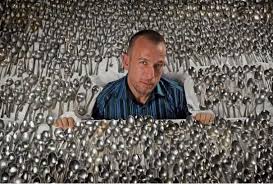 If it exists, it is collected by someone. In my long career in the antiques and auction business, I have seen the vast variety of items that people collect.
The reason people usually start collecting is, a connection. Not with the objects per say, but with memories. Sometimes people just plain collect because they realize something appeals to them, this has happened to me with fine art.
People don't always collect just items, sometimes they collect themes. Here are just a few theme examples: Photography, Civil War & militaria, fine art paintings & sculpture, furniture, duck decoys, historical ephemera, antique toys, coins, beer cans, books. Animal themes collected include: cats, dogs, elephants, tigers, lions, hippopotamuses, squirrels, turtles, loons, ducks and owls. I have been in houses where there are 1,000s of these themed collectibles. The person, couple or family cherished the aspect of collecting, and buying examples, at auction, on vacation, or other various means. Their stories of their collecting experience was often very interesting and meant something to them.
Read the rest of the story here.
Continue reading