photos by Kate Manko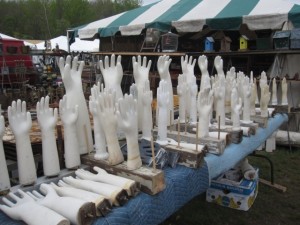 The year is 2012, the Large Hadron Collider is trying to separate the tiniest of particles, the Kepler Mission is finding all kinds of planets in other solar systems, and the antique market is colliding with social media.
In my attempt to be an antique geek, I am now sitting in the VIP tent at the Brimfield Tweet up. It  is nicely decorated and I dare say the fanciest tent on the grounds. I am looking around and realize I am the only male in the tent of around a dozen or so 20-30-something year old females. Most of which look like they are in the throws of writing something. It actually warms my heart to see young people typing away here at Brimfield. I mean who would have thunk? Even if they are not really interested in antiques, they are writing to what I would assume would be a young audience who may find out about this fun event.
My feet are tired and my brain hurts as I just walked what I would guess would be half the show. It is an upbeat event and I saw camera crews everywhere as they are filming PBS Market Wars. My search has been unsuccessful so far to find something that I can't live without, but I will remain optimistic.
As I walk around, I am people watching as much as antique and  art seeking. I came to a conclusion that there are three kinds of people that go to this show, maybe all shows. 1. Avid shoppers of anything that appeals to them. 2. Collectors with an eagle eye scoping for a specified category.. they seem to move pretty fast, and 3. Pickers or dealers looking for someone's pricing mistake. I guess I would reluctantly say, I am a half way between 2. & 3.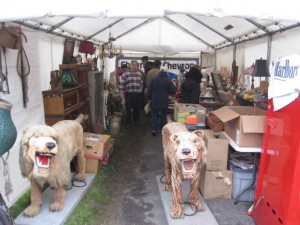 For the first time in my life, I am looking for Chinese items in the mix, and the show seems almost devoid of it. I can only assume that someone beat me to whatever was great and underpriced.  I'm certainly not the only person out there looking for that same category. I wish I could go back in time and pay more attention to all the Asian items I have been exposed to over the years. I've always had the habit of paying much more attention to items I really enjoy and can live with instead. Actually a better idea is, if I could go back in time, I would buy a bunch of rare Chinese porcelains at 1985 prices.
I just met Eric Bradley, editor of the Antique Trader Magazine for the first time. We've talked on the phone many times, and he was on a podcast a while back. I love what Eric has done with that magazine and how he is working so hard to get people, especially young people involved in antiques, helping to keep the whole business alive.
Things have changed a lot since I first started attending Brimfield. People are collecting in a different manner than the old days. It is hard to tell what will be next, but vintage seems to be pretty hot these days, especially in the aforementioned younger crowd. I've noticed other things have changed a lot over the years, I myself stepped out of a tent and looked up and artist on askart.com on my cell phone. It sure beats carrying around an art reference book or two. As a matter fact I saw a lot of people on their cell phones talking to other people in various parts of the show. The husband was asking his wife of he could buy something, another person was asking what appeared to be a client if they liked the picture she just sent from her phone. Yes, things change and you have to roll with the changes if you want to survive in this business.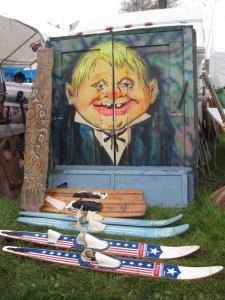 I just got back from another walkaround, and there was a airplane flying over with the banner of liveauctioneers.com flapping behind it. It turned into a beautiful day, and the show seems pretty well attended. I always love watching the porters with rolling carts carrying a massive amounts of furniture and collectibles for customer. The newfound owner always seemed so excited walking beside the cart to make sure nothing falls.
I stopped a number of booths and just started talking to dealers who had been attending the show for many years, and I asked them how they're doing for sales, most seem to say it is a little tough. People are just being more careful of what they buy today and I certainly know I am proceeding the same way.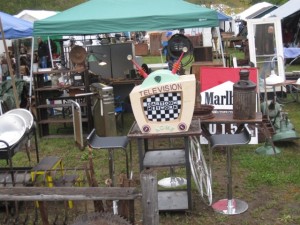 The day has moved on and now I'm sitting at home from my long drive from Brimfield. I have to say this is the first time I have ever been skunked, I did not buy one single thing. I came very close to buying a painting for myself, and then I realized I have about two dozen of them in a closet that I can't even hang up and I have to stop somewhere. I am not saying any of this to make anyone feel discouraged from going to Brimfield, it is just my own personal taste. If you love antiques, vintage, paintings and collectibles, you certainly will get your fill and even though I didn't buy anything today, I highly encourage the reader to check it out if it's in your means. If you do not end up buying anything, at least you will have a lot of fun like I did with great people having similar interests as yourself.
I'm not really sure if social media will actually change a whole lot with Brimfield, but it will be interesting to see. I do believe it certainly gets the word out and that is very important. It is also helping auctions, antique dealers and buyers all connect and I am all for it. Who knows what technology will show up next and how it will affect the buying aspect of things. I have a pretty good idea that Brimfield will always remain a brick-and-mortar, or should I say, tent-and-pole operation with technology seeping in around the edges. Check out Brimfield here.