photos by Kate Manko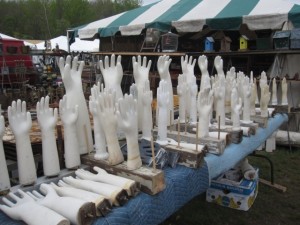 The year is 2012, the Large Hadron Collider is trying to separate the tiniest of particles, the Kepler Mission is finding all kinds of planets in other solar systems, and the antique market is colliding with social media.
In my attempt to be an antique geek, I am now sitting in the VIP tent at the Brimfield Tweet up. It  is nicely decorated and I dare say the fanciest tent on the grounds. I am looking around and realize I am the only male in the tent of around a dozen or so 20-30-something year old females. Most of which look like they are in the throws of writing something. It actually warms my heart to see young people typing away here at Brimfield. I mean who would have thunk? Even if they are not really interested in antiques, they are writing to what I would assume would be a young audience who may find out about this fun event.
My feet are tired and my brain hurts as I just walked what I would guess would be half the show. It is an upbeat event and I saw camera crews everywhere as they are filming PBS Market Wars. My search has been unsuccessful so far to find something that I can't live without, but I will remain optimistic.
Continue reading